The Best High-Performance Tactical Pants for Law Enforcement
If you're a law enforcement professional, you need gear that will keep up. You have too much to worry about to lose focus because your uniform is uncomfortable or something breaks because it wasn't up to the task at hand. That's why we've made it a point to stock quality tactical pants for operators of all stripes, be it cops on the street, operators overseas, EMS professionals, or weekend warriors who protect and want to hit the woods for some quality time away from the world when they take a rare break from service. Below is a round-up of the tactical pants we offer. We've included some professional opinions to help you make a choice that's right for your mission, so you can get what you need and get back to your job.
What are the best tactical pants on the market?
You've probably heard of the 5.11 Tactical Stryke Pants, maybe Oakley Standard Issue or prAna Stretch Zion. Each of those brands makes a quality tactical pant that professionals trust. We've worn them and believe in them. But we carry a couple other products that we thought did the same job as those pants at different price points.
The first is a line of tactical products from First Tactical. First Tactical is a brand designed by and for operators, law enforcement professionals and EMS personnel. Their entire mission is to speak with people who wear the products every day and constantly improve the fabrics, fits and functionality to ensure the perfect mission-specific products.
[video callout] We spoke with First Tactical's team at SHOT Show.
First Tactical makes a number of different tactical pants.
First Tactical Velocity Tactical BDU Pant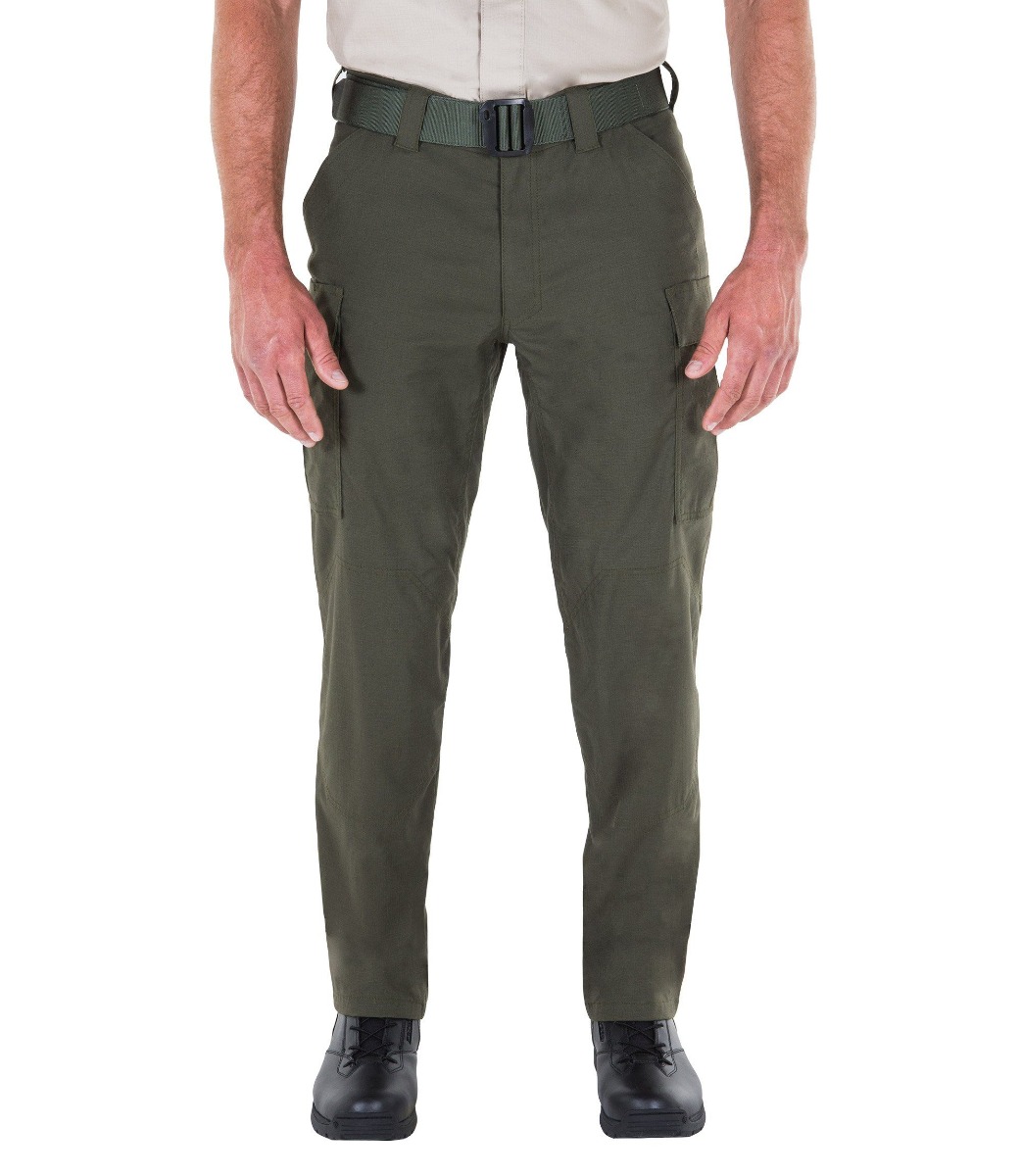 First Tactical took their Specialist Pants and feedback from the field to bring this new product to market. The key innovation in the Velocity Tactical Pant is a new lightweight design.
The Velocity Tactical Pant has double micro ripstop polyester and cotton blend fabric. It'd be pretty hard to break this stuff regardless, but then they added a Teflon Shield stain repellent finish and a mechanical two-way stretch. The stretch is there for public safety workers who needs to be agile, move quickly, and also be comfortable for long periods of time. These are high-performance pants that you can move in athletically, yet they are durable and will stand up against any mission. You can trust triple needle seams at all critical points to keep your pants together no matter how hard you push them.
These pants have side cargo pockets, internal knee pad access, a comfort stretch waistband and breathable, mesh pockets. It's like these guys thought of everything, down to the buttonholes and pant leg bungee to secure your uniform to your boot.
Available in black, khaki, navy blue and olive green, the Velocity Tactical Pant helps you complete your battle dress uniform in comfort, function and style.
First Tactical Defender Pant
While the Velocity BDU pant is an affordable, quality option, the next level up in the First Tactical line of professional clothing is the Defender Pant. At a higher price point, this pant is built to perform and offer a professional look some departments demand of their personnel on patrol.
The Defender Pant has 28 specialty pockets that allow for customized setups and expand for oversized gear, magazines and equipment. Storage is one thing, but the real victory the Defender Pant brings to professionals is increased comfort and mobility. It used to be for durability you sacrificed movement, your more rugged products were rigid. That's no longer the case. With articulated knees, running gussets and venting in all the pockets, the Defender Pant promotes movement and keeps you cool on the go. These are perfect for our friends down South who constantly battle the heat or for anyone doing a tour in warm weather settings.
[video callout] Check out First Tactical CEO Dan Costa talk about their approach to apparel design.
But I'm a Crye Guy...
Some folks want a complete kit that fits perfectly together. They like one brand and they want everything to match. For few brands are people as loyal as they are with Crye Precision. People say, "5.11 is cool, First Tactical sounds great, but I'm a Crye guy." We know what they mean.
That's why we carry a couple Crye Precision tactical apparel options so you can match your Jumpable Plate Carrier (JPC), Combat Shirt and AVS 1000 Pack to your tactical pants. Because look good, shoot straight, right?
Crye Precision Combat Pant G3
If you're a loyal Crye customer, you know their Combat Pant comes at a higher price point than most other products on the market. But you're paying for quality that was made here in America.
The Crye Precision Combat Pants come in a couple different Multicam colorways and your standard black. They are designed to be the highest quality assault uniform pant on the market with a padded waistband and hi-mobility stretch panels at your knees and back for optimum performance. Knee pads are sold separately, but these pants have spots for them. They also have dedicated pockets for your knife and flashlight. Rear zip pockets and large thigh pockets offer professionals and operators options to completely customize their patrol setup.
Crye Precision is dedicated to making quality products for our country's fighting forces, so you know their signature tactical pants are built to stand up to any test and the harshest environments. As a proud retailer of Crye products, we're happy to offer some of the lowest prices on Crye gear anywhere on the web—all to help those who serve stay ready.
Choosing the Right Tactical Pant
We only carry quality tactical pants. We don't carry a discount option. That means choosing the right pant for you often comes down to fit, function and price. Take an in-depth look at the pockets, think through the gear you'll run, then get a pair home and try them on. We want to help you find the right gear you need to complete your mission, so let us know if we can be of any help.